Space for you. All of you.
Introducing Hyundai's all-new people mover, the elegantly spacious STARIA. Imagine having comfortable seating for 8, latest safety and next-gen technology combined with a strikingly futuristic exterior design and optional AWD. The STARIA seamlessly turns any routine commute into an enjoyable drive with the whole family. With the STARIA your family can enjoy an effortless experience of mobility like you've never imagined it before.
A big space for your even bigger life.
Make family life a little easier.
Safety is STARIA's No.1 priority.
10.25" touchscreen with Sat Nav, Apple CarPlayTM[P2] and AndroidTM[P3] Auto.
A big space for your even bigger life.
Big families need more than just extra room. The 8 leather appointed seats[P1] are easy to clean for those seemingly everyday spills and the 2-3-3 configuration has as many possibilities as your life can throw at it, so all passengers can travel with space and comfort. The roof height and spacious interior makes it easy for kids to hop in and out without climbing over each other and the huge luggage space fits cases, tents, racquets, clubs and inflatables galore. Perfect for big families that love to get out and live life to the full.
Leather interior available on the Elite & Highlander variants.
Make family life a little easier.
We know how you can make carrying beach chairs, surfboards and Eskies all at once look so easy, but opening the car door at the same time? Thankfully the STARIA's Smart Power Sliding Doors will slide open for you automatically as long as you have your smart key with you. Whether you've got your hands full at the beach or while grocery shopping, it's just another way we've developed the STARIA to make you busy family life a little easier.
Available on the Elite & Highlander variants.
Smart power tailgate.
Hands full with shopping bags and can't open or close the boot? If your smart key is close by in your pocket or handbag, the STARIA is here to lend a helping hand. Imagine having a smart hands-free tailgate that opens when you walk towards it and closes automatically when you walk away. It's like having an extra pair of hands when you need it most.
Available on the Elite & Highlander variants.
Safety is STARIA's No.1 priority.
We know that your family is your most precious passengers so there is no compromise when it comes to safety. With 7 airbags including front row centre airbag, 3-point seat belts, curtains that go all the way to the
HTRAC AWD availability.
Whether you're driving in snow, in rain or over unpaved roads, the STARIA is perfect for your family trips in any tough situations. HTRAC ensures that all four wheels are providing maximum traction at all times and for those special times when you want power distribution to be evenly split between the front and rear axles, you can simply press 4WD Lock at your fingertips.
Available on Diesel engines only.
360 degree view.
With a car packed with kids there are enough distractions to deal with when you're parking. That's why the STARIA has a Surround View Monitor, giving you an 360 degree view (exclusive to the Elite & Highlander variants) of the front, side and rear to make parking in tights spots even with distractions in the backseat, effortless.
3D view is available on the Elite & Highlander variants.
Beat the blind spot.
Changing lanes on busy roads has never been easier or safer. Turn the indicator on and you'll see real-time footage of any vehicles that are sitting in your blind spot, displayed clearly on the 10.25″ supervision cluster. The safety of your family is our priority.
BVM and 10.25″ supervision cluster are available on the Highlander variant.
Safer passenger exit.
With more kids than you have eyes, it's impossible to see what they're doing at all times. That's why the STARIA has Safe Exit Assist (SEA) with radar sensors on the rear bumper sounding a warning alarm. If it detects a car approaching from behind, the power doors will remain closed providing an additional layer of safety, so you can have peace of mind with smart tech that keeps your family safe.
Available on the Elite & Highlander variants.
An extra set of eyes.
Most parents can only imagine having eyes in the back of their heads, the STARIA's Rear Passenger View Monitor makes it a reality. Whether you're keeping the conversation flowing, checking your kids are actually eating their lunch or that they're sleeping soundly, its wide-angle camera means you can see the back seats from the front seats, day and night, keeping close contact at all times.
Available on the Highlander variant.
10.25" touchscreen with Sat Nav, Apple CarPlayTM[P2] and AndroidTM[P3] Auto.
The all-new STARIA features a driver's console designed to keep you easily connected, informed and entertained. With Apple CarPlayTM[P2] and AndroidTM[P3] Auto compatibility, the 10.25" multimedia display houses your favourite smartphone apps, entertainment, navigation features and content at the touch of a button.
Sat nav and 10.25" touchscreen available on the Elite & Highlander variants.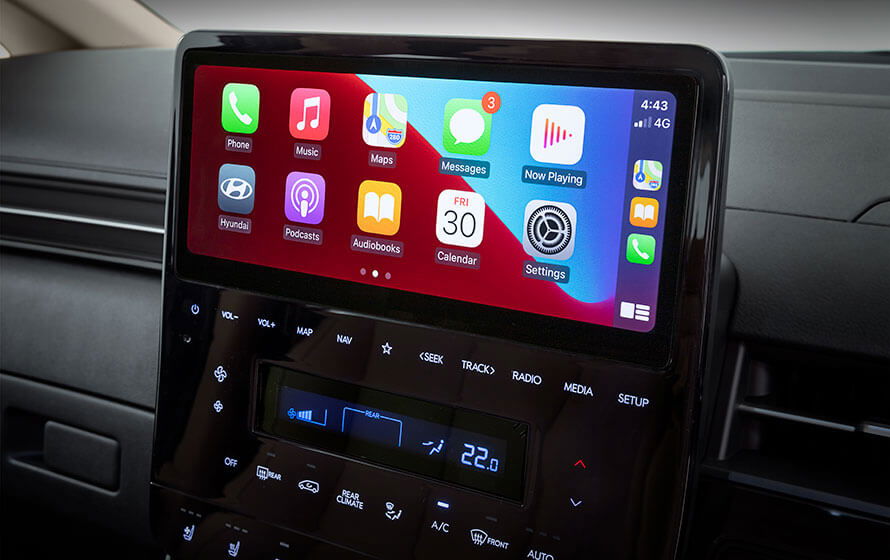 Enter the space age.
The all-new STARIA's one-curve silhouette will send your imagination soaring into outer space. Like nothing else on the road, its sleek, minimal and clean lines are complemented by a wide radiator grille, horizontal LED daytime running lights and low-set headlamps. The sheer space and openness of the panoramic windows and wide glass sunroofs add both to this futuristic design and to a stimulating in-vehicle experience for your passengers.
Smart power sliding doors.

Heated & power folding mirrors.

Panoramic windows.

18" alloy wheels.

Smart power tailgate.
Roof mounted rear spoiler.

Being seen on the road is paramount when it comes to safety. The STARIA's road presence is enhanced further with the addition of LED auxiliary brakes lights into the rear spoiler. With the rear wiper hidden inside the spoiler too, the result is an improved aerodynamic drive with safety, front of mind.

LED taillights.

The taillight of the all-new STARIA doesn't disappoint when it comes to high-tech design and safety either. Curved LED lights elegantly hug the sleek lines from bumper to spoiler while also improving safety through increased visibility.

LED daytime running lights DRLs.

The STARIA's LED daytime running lights not only add to its unique style and futuristic look, they also enhance the most important aspect of a people mover, its safety. Being as visible as possible to oncoming traffic is vital, as well as helping you to park safely in low-light spaces.

Dual power sunroofs.

The feeling of wide, open spaciousness for passengers in the rear is magnified by the dual power sunroof. Power adjustable tilting and sliding in the front and a power sunblind in the rear means the second and third row have a front row seat on the outside world.
Now every journey can be effortless.
Space, comfort and cutting-edge technology combine elegantly within the all-new STARIA. Imagine if all family journeys could be seamless, effortless and enjoyable. With the completely flexible 2-3-3 seating configuration, 10.25" multimedia touchscreen, leather appointed seats and steering wheel, 16 cupholders and the enviable futuristic design of the all-new STARIA they most certainly can.
Leather appointed seats.[P1]

10.25" multimedia touchscreen with Apple CarPlayTM[P2] & AndroidTM[P3] Auto.

Climate control (front and rear individual zones).

Shift By Wire (SBW).

16 cup holders.

10.25″ supervision cluster.

Heated steering wheel.

Heated & ventilated front seats.

Hyundai by your side.

We've tried to make sure you find every stage along the path to owning a STARIA a thoroughly positive experience. From flexible financing and tailored insurance cover, to sat-nav map updates and fixed-price servicing, we'll make available everything you could need to get the most out of your new car, now and way down the road.

Superb safety.

Imagine a vehicle that cares for your family's safety as much as you do. Whether it's on the busy morning trip to school or family weekends away, at Hyundai, we believe that safety should never be an optional extra. That's why we created Hyundai SmartSense™ – our standard advanced system of interconnected cameras, radars, alerts, alarms and ultrasonic sensors that know what's behind you, what's beside you, and can get your STARIA to react to what's in front of you.

A surprising performance.

Whether it's boats, jet skis or trailers, the 8-speed automatic transmission Diesel engine has a similar towing capacity as the Santa Fe and can handle your family's playtime with ease. With optional AWD you can lock all four wheels together to power out of any mud or sand your off roading adventures may encounter. STARIA really is the people mover with the pulling power of an SUV.

Two engines – 3.5 MPi 2WD and 2.2 CRDi AWD.

Select from two engine types, both coming with an 8-speed automatic transmission. Whether you're after the efficiently powerful diesel AWD, or the power of a petrol 2WD, there's a STARIA perfect for your family.

3.5 MPi Petrol 2WD – featuring a SmartStream G3.5 Petrol engine with a max power of 200

kW

@ 6,400 RPM and Max torque of 331Nm @ 5,000RPM
2.2 CRDi Diesel AWD – featuring a R Series 2.2 Diesel engine family with a max power of 130

kW

@ 3,800 RPM and Max torque of 430 Nm @ 1,500 – 2,500RPM

HTRAC all-wheel drive.

Whether you're driving in snow, in rain or over unpaved roads, HTRAC ensures that all four wheels are providing maximum traction at all times. And for those special times when you want power distribution to be evenly split between the front and rear axles, simply press 4WD Lock.

Available on Diesel engines only.

Paddle shifters.

A people mover with paddle shift gears for sporty manual shifting? The STARIA continues to defy conventions.

Shift By Wire (SBW).

The seamless interior is completed with our latest Shift By Wire system which does the thinking for you. With gear selection and the electronic parking brake controlled at the touch of a button, we've boosted the convenience so if you turn off the engine and step out of the car, the all-new STARIA will activate the parking brake for you.

Simply smarter.

Imagine advanced technology that keeps your family connected, entertained and safe. Imagine having seamless connection with all of your devices as soon as you jump into the car and having multiple safety alerts that act like your guardian angel on the road. With Apple CarPlayTM[P2], AndroidTM[P3] Auto, 1 Multimedia port in the front, 5 USB ports and wireless smartphone charging the all-new STARIA is packed with the advanced tech you need to ensure every journey you take, whether that's a long family trip or the daily school drop off, is both safe and effortlessly entertaining.

10.25" touchscreen with Apple CarPlayTM[P2] and AndroidTM[P3] Auto.

10.25" touchscreen with Apple CarPlayTM[P2] and AndroidTM[P3] Auto.

Everything you need for a safe, comfortable and entertaining drive right at the tip of your fingers. The 10.25" multimedia touchscreen gives quick connection to your mobile phone for calls, tunes, navigation and much, much more.
10.25" touchscreen available on the Elite & Highlander variants.

Wireless charging pad[P4].

The easiest way to keep your smartphone charged, simply place your phone onto the pad for fast wireless charging.

Wireless charging requires a Qi-enabled smartphone or adaptor in order to operate.

Smart key with push-button start.

Hands full and can't get to your car keys in your bag, jacket or pocket? The STARIA is here to help. If you're next to the car with your smart key close by you can open the doors by simply pressing the button on the door handle. You can start the car in the same way by pressing the dash-mounted Start/Stop button. You can even remote start the engine and if you hold down the lock button any opened power windows and doors will automatically close. If only every part of life was so easy.
Available on Elite and Highlander variants.

Satellite Navigation.

Built into the integrated 10.25″ touchscreen the Sat Nav will give you accurate directions to get your next generation to their next destination – be that Saturday sport, a friend's place or a party – while wisely providing alerts about speed limits, red light cameras and school zones ahead.
Available on the Elite & Highlander variants.

6x USB ports

Long trips with multiple devices? We've got you covered. Keep your family happy in every row with 5 USB charging ports (1 in the front and 2 each in 2nd and 3rd row) plus 1 multimedia port in the front for maximum recharging convenience.

Multi-Bluetooth® Connectivity.

End all arguments when it comes to who's playlist gets played. Connect two phones simultaneously making it possible to listen to music in each phone using the Bluetooth® streaming function (one for a mobile phone connection and the other for audio streaming).

Hyundai owning benefits.

When you drive away in your new Hyundai STARIA, it's just the start of a brilliant journey. From your complimentary first service at 1,500km, Hyundai offers Australia's highest levels of ongoing support and care in our iCare program.

5 Year Unlimited Km Warranty.[H3]

So go ahead and drive without keeping an eye on the odometer.

Lifetime Service Plan.

Know in advance the maximum cost for each scheduled service.

Roadside Support Plan.

Included for the first 12 months, and extended for 12 more with each successive scheduled service.

Sat Nav Update Plan.

A subscription service that ensures your GPS always plots your course using the most up-to-date maps.

Disclaimers.

[P1] Finishes specified as leather may contain elements of genuine leather, polyurethane leather (leather substitute) or man-made materials, or a combination thereof. Leather appointed seats available on the Elite & Highlander variants.

[P2] Apple CarPlay™ requires iPhone 5© or subsequent model (lightning cable) in order to operate. iPhone© is a registered trademarks of Apple Inc.

[P3] Android™ Auto requires a device with Android 5.0 operating system or subsequent model (lightning cable) in order to operate. Android™ is a registered trademark of Google Inc.

[P4] Wireless charging requires a Qi-enabled smartphone or adaptor in order to operate.

[H1] 5 Year Warranty.
If the vehicle has been used for private and domestic purposes and is not and has not been previously used for a commercial application, including but not limited to taxi, hire, rental, courier, security, driving school, tour, bus operator or emergency vehicle. Vehicles used at any time for "commercial application", as defined in the vehicle warranty policy, are excluded. Passenger vehicles that are or have been used for a commercial application are provided with a 5 year/130,000km warranty (whichever occurs first). A People Mover Van that is used or has been used for a commercial application is provided with a 5 year/160,000km warranty (whichever occurs first). A Commercial Van is provided with a 5 year/160,000km warranty (whichever occurs first) regardless of its usage. Commercial application does not include Hyundai Genesis vehicles used for hire/limousine purposes. Terms and conditions apply, view the Warranty Terms and Conditions.

Hyundai Genuine Parts.
Hyundai Genuine Parts are backed by a 12-month, 20,000km warranty (whichever occurs first), when installed at a participating authorised Hyundai Service Centre. You can find out more about our warranty program by downloading the full Parts Terms and Conditions.

Genuine Accessories Warranty.
All Hyundai Genuine accessories are subject to 5 years warranty if purchased at the time of a new Hyundai and fitted by an authorised Hyundai Dealer. For full warranty terms and usage recommendations view the Warranty Terms and Conditions.

Roadside Support Plan.
Included 12 months Roadside Support when you purchase a new Hyundai passenger vehicle (excluding rental buyers). Further Roadside Support extensions are available, each for 12 months from the date of a scheduled maintenance service at a participating authorised Hyundai dealer (unless vehicle is more than 108 months (9 years) from the original new car sale date, in which case entitlement to Roadside Support ends when vehicle reaches 120 months (10 years) from original new car sale date). To see the full terms and conditions of the Hyundai Roadside Support Plan, please refer to the PDF.

Sat Nav Update Plan.
Only applies to new vehicles with factory-fitted satellite navigation. Updates are delivered annually and are included if the vehicle completes a scheduled service at a participating Hyundai dealer. Models with factory-fitted satellite navigation, updates must be undertaken within 10 years of the vehicle's initial purchase, maximum number of 9 updates. As part of the Sat Nav Update process, some of your settings may need to be reset. New features are available on selected models. New MY 2021 models will have the latest 2021 maps already installed in the vehicles AVN and will be eligible to install annual map updates once released by AutoEver. For all other Hyundai vehicles (excluding i45), updates must be undertaken within 6 ½ years of the vehicle's initial purchase, with a maximum number of 5 updates. To see the full terms and conditions and model eligibility, please visit hyundai.com/au/en/owning/icare/sat-nav-plan, or download PDF for more information.

Lifetime Service Plan.
For the benefit of Hyundai owners, Hyundai provides online quotes, which specify the maximum price applicable for a vehicle's next scheduled maintenance service at a participating authorised Hyundai dealer and using Hyundai Genuine Parts (where required). Online quotes are available at www.hyundai.com/au/en/find-a-dealer#service apply for a stated effective period only and may change after that effective period without notice. Standard scheduled maintenance services are of limited scope. The benefit of online quotes is available for all Hyundai's, for their lifetime. To see the full terms and conditions of the Hyundai Lifetime Service Plan Program, please refer to the PDF.

Find your favourite staria.

Showing {{ matchedAndSortedGrades.length }}

{{variant.grade}}

{{variant.title}}

DRIVE AWAY FROM*

${{variant.drive_away.toString().replace(/(\d)(?=(\d{3})+(?!\d))/g, '$1,')}}

Book a test drive.

---

Are you ready to experience your next Hyundai vehicle? Book a test drive with us today!

I am interested in*

{{ variants.model | capitalize }} {{ variants.grade | capitalize }}

{{ variants.title | capitalize }}

DRIVEAWAY FROM ${{ variants.drive_away.toString().replace(/B(?=(d{3})+(?!d))/g, ',').split('.')[0] }}

Your details

First Name:

{{first_name}}

Second Name:

{{second_name}}

Email Address:

{{email_a}}

Phone Number:

{{phone_n}}

Message:

{{message}}

{{ variants.model | capitalize }} {{ variants.grade | capitalize }}

{{ variants.title | capitalize }}

DRIVEAWAY FROM ${{ variants.drive_away.toString().replace(/B(?=(d{3})+(?!d))/g, ',').split('.')[0] }}